Mari Sandoz High Plains Heritage Center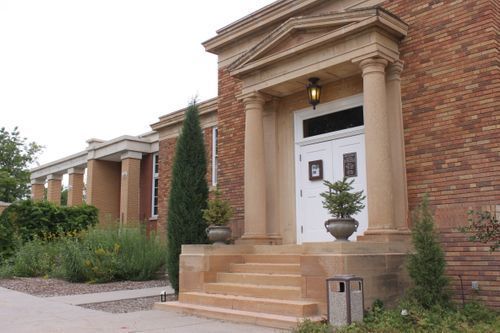 The former Carnegie-style library serves as the Mari Sandoz High Plains Heritage Center on Chadron State College campus.
The Center features exhibits, an archival library, and a preservation workroom equipped with a digital imaging laboratory. The Center also serves as the repository for the Mari Sandoz Heritage Society, which has loaned its expansive collection of Sandoz materials for the exhibits and archives. The Society assists in educational programming and encourages research and publishing about the High Plains region.
An adjacent two-story atrium has been named for lead donors, Vernon P. and Madge Fortune Chicoine. It provides additional space for exhibits, meetings, social events, seminars, and workshops.
Both facilities support CSC's academic programs - including the Museum Studies program - and educational activities for the region's primary and secondary school students and teachers. Endowments provide internships, resources for outreach and collection care.
In addition to the development of the Center itself, the area surrounding the Center supports the work that goes on inside. These areas include the campus-wide arboretum, the hiking-biking heritage trail, and the heritage gardens.