Current Exhibits
"The Legendary Legacy of Mari Sandoz"
January 6 to March 5, 2021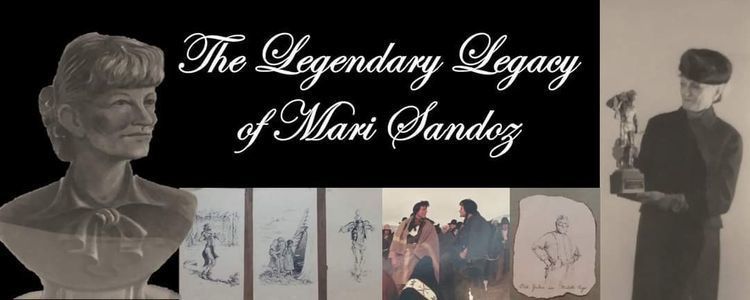 "The Legendary Legacy of Mari Sandoz" explores Mari's legacy as an author by highlighting different aspects of her career. The exhibit features copies of each of her books and short stories collection, including military and foreign language editions. There are also copies of works by other authors from the state to showcase Mari's prominence as a representative of the state's literary figures. Other sections exhibit adaptations, with photographs from the Cheyenne Autumn movie and the Old Jules play, as well as letters discussing an Old Jules movie and a photograph from Dwight Kirsch when the movie was in development. We also highlight her involvement with the planning of the Crazy Horse monument. Some of the printing plates for Mari's books, including Slogum House, Old Jules, and Crazy Horse, are featured. They were going to be melted down but Mari saved them from destruction. Mari's relationship with Mary Bryan Forsyth is also addressed by exhibiting the images she drew for Love Song to the Plains and the bust of Mari that later was put into the capitol building. Finally, the exhibit highlights the continuance of Mari's legacy through the Society and the Center through photographs of the Society and events.
Like and follow the Center's Facebook page for information on this exhibit and more https://www.facebook.com/sandozcenter/
Additional news about the exhibit https://www.csc.edu/news/story.csc?article=12430