Current Exhibit
"Kapemni: As It Is Above, It Is Below"
Through October 15, 2021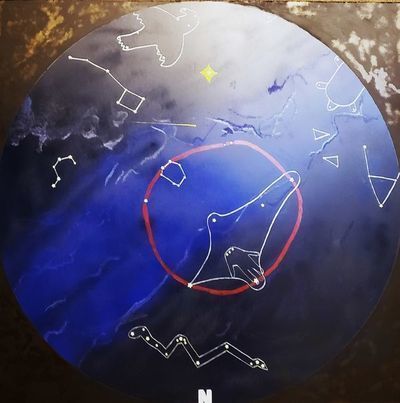 Kapemni, the X-form used in Lakota iconography, represents the cosmology of reflection, a spiritual view in which the physical world is dramatically mirrored in the sky and stars directly overhead. As above, so below. The form consists of two. The most recognized symbol the Lakota used was the kapemni -- a simple hourglass or X-form—though it's commonly referred by many as the Lakota symbol. The term kapemni also means twisting, which is deeply associated with how the tribe understands the stars in the sky. The exhibit focuses on Lakota Star Knowledge, Native American Totems (Zodiac), and giving guests a glimpse into the new Math & Science Center of Innovative Learning (COIL) Building. Guests can create their own constellations and color themed coloring pages! Items from the private collections of Floyd Counts, Laure Sinn and Roxanna Puchner, as well as items from the Ohme Collection in the Eleanor Barbour-Cook Museum of Chadron State College complete the exhibit. Two Star Parties – on June 10 and July 28 – were held at Agate Fossil Beds National Monument near Chadron for viewing of the Delta Aquarids and Perseid Meteor Showers. Those events were co-hosted by Chadron State College and the Chadron Public Library.
Like and follow the Center's Facebook page for information on this exhibit and more https://www.facebook.com/sandozcenter/
Additional news about the exhibit https://www.csc.edu/news/story.csc?article=12513
Photo Credit: Kerri Rempp