Story Catcher Writing Workshop
Our 2023 Retreat Will Be in the Black Hills of South Dakota June 6-9, the Creekside Resort at the State Game Lodge, Custer State Park. Events will take place in the Norbeck Meeting Room on the grounds of the State Game Lodge and at our shared accommodations, including the Game Keeper's Cabin and Creekside Cabin and Bunkhouse at Custer State Park.
FOR MORE INFORMATION ABOUT THE WORKSHOP VISIT THE STORY CATCHER WORKSHOP WEBSITE (CLICK HERE)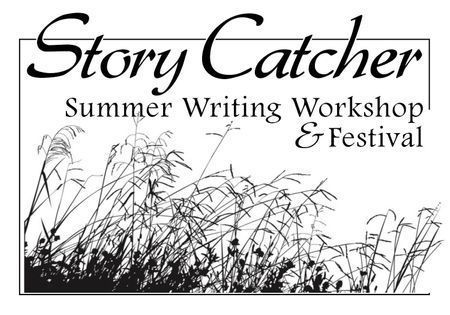 The Story Catcher Writing Workshop and Festival  takes its inspiration from our own Mari Sandoz (1896-1966), who built an impressive career as an author but also went to great lengths to encourage other writers.
Far from the Sand Hills homesteads where she grew up, she conducted summer writing workshops on college campuses, reviewing manuscripts sent to her by aspiring authors and teaching creative writing through programming produced by Nebraska Public Television. Her advice to anyone who wanted to become a writer was the same approach she took to her work: "pick a subject you know well, and write about it." A prolific writer and dogged researcher, her works crossed the boundaries of history, fiction, biography, memoir, journalism, ethnography, ecology, activism and advocacy for marginalized groups such as Native Americans.  It is fitting, therefore, that this passionate teacher of writing who captured many stories from this region—from ancient past to the speculative future, from a wide variety of approaches and perspectives—should be the inspiration for our workshop.
The workshop and festival itself takes its name from The Story Catcher, Sandoz's last published novel, and winner of the Levi Strauss Golden Saddleman Award in 1963 and the Western Writers of America Spur Award for best juvenile fiction in 1964. Set in the same high plains region of our workshop, the novella follows the trials and tribulations of Lance, a young Oglala Sioux searching for his place within a mid-nineteenth century tribal society facing white encroachment and continued conflict with neighboring tribes. Turning his back on the honors he might gain as a warrior, Lance trades his weapons for the charcoal and color sticks and animal skins that he uses to capture the daily life, hunts, battles, rituals and visions of his tribe, eventually winning honor and a new name: "Story Catcher," recorder of the history of his people.
It is our goal to channel this spirit of Sandoz and The Story Catcher—to guide and encourage the participants of our workshop in capturing their own creative ideas, to help transform those ideas into written works that can then be shared, discussed and revised, and to celebrate the best qualities of writing from this workshop—and this region—in a festival that may inspire the story catcher in all of us.