2020 Pilster Great Plains Lecture, September 16, 2020
Virtual Lecture & Panel Discussion
"Borderlands, Latina/o, American West, Immigration"
Dr. Omar Valerio-Jimenez
The 2020 Pilster Great Plains Lecture took a look at immigration in the American West. Pilster Lecturer Dr. Omar Valerio-Jimenez was joined by a panel of experts as they explored the topic from a national perspective. Due to the Covid-19 pandemic of 2020, this event was held exclusively online for a virtual audience that included attendees from around the globe.
---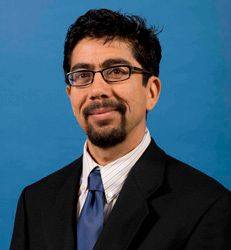 Dr. Omar Valerio-Jiménez, the Pilster keynote, is an Associate Professor of History at the University of Texas San Antonio, was born in Matamoros, Tamaulipas, and grew up in Taft, Corpus Christi, and Edinburg, Texas. After graduating from MIT, he worked as an engineer for five years before attending UCLA, where he obtained his master's and doctorate degrees. He has taught courses on borderlands, Latinas/os, immigration, race/ethnicity, and the American West at universities in California, New York, Texas, and Iowa.
His first book, River of Hope: Forging Identity and Nation in the Rio Grande Borderlands (Duke University Press, 2013), explores state formation and cultural change along the Mexico-United States border during the 18th and 19th Centuries. He is a co-editor of Major Problems in Latina/o History (Cengage Learning, 2014), scholarly essays and primary sources on the migration and racialization experiences of various Latino populations. He is also a co-editor of The Latina/o Midwest Reader (University of Illinois Press, 2017) an interdisciplinary anthology that examines the history, education, literature, art, and politics of Latinas/os in the Midwest.
His current book project, Remembering Conquest: Mexican Americans, Memory, and Citizenship, analyzes the ways in which memories of the U.S.-Mexico War have shaped Mexican Americans' civil rights struggles, writing, oral discourse, and public rituals. His next project explores the efforts of scholars to challenge the omissions and negative characterizations of Tejanos in the state's history and in public school textbooks during the mid-twentieth century.
He serves on the editorial board of Aztlán: A Journal of Chicano Studies, Studies in Midwestern History, Journal of Texas Archeology and History, and is a series editor of Latinos in Chicago and the Midwest Series (University of Illinois Press). 
Panelists
Text about the panelists and moderator
Pilster Lecturer's Paper
Recording of the Lecture
Link to video recording