2017 Pilster Great Plains Lecture, September 28, 2017
"Nebraska Before Nebraska: Our Pawnee Homeland"
Walter Echo-Hawk (Pawnee)
The 2017 lecture examined Nebraska from a Pawnee Indian perspective. The Central Plains is the ancient aboriginal homeland of the venerable Pawnee Nation, the oldest known inhabitants of this corner of Mother Earth. When the World was young, the Great Spirit's Sea of Grass gave rise to one of the world's founding Buffalo Cultures. Echo-Hawk will chronicle that long span of Great Plains history, including ten generations of his family. When viewed through Indigenous Eyes, the American Heartland is a far more exotic place than imagined; and that perspective provides greater and deeper appreciation for our common homeland.
The Pawnees lived in the Loup and Platte River Valleys hundreds of years before Europeans arrived in North America, but they were removed from Nebraska in 1876.  The Echo-Hawk family is distinguished for its contributions to Pawnee Nation and the State of Oklahoma.  In that tradition, Walter Echo-Hawk is a noted attorney, author, and speaker with expertise in indigenous history, federal Indian law, and Native American cosmology. 
---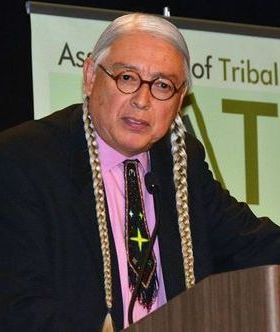 Author, attorney and legal scholar Walter Echo-Hawk (www.walterechohawk.com) was the inaugural "Walter R. Echo-Hawk Distinguished Visiting Scholar" at Lewis & Clark Law School for 2015. He authored In The Light Of Justice: The Rise of Human Rights in Native America and the UN Declaration on the Rights of Indigenous Peoples (2013); In the Courts of the Conqueror: The 10 Worst Indian Law Cases Ever Decided (2010); and Battlefields and Burial Grounds (1994). He is a Pawnee Indian with a BA, Political Science, Oklahoma St. Univ. (1970); and JD, UNM (1973).
Echo-Hawk currently practices law in Oklahoma. He is Chair, Board of Directors, Association of Tribal Archives, Libraries and Museums (www.atalm.org). As a staff attorney of the Native American Rights Fund (1973-2009), he represented Indian Tribes, Alaska Natives, and Native Hawaiians on significant legal issues in the modern era of federal Indian law, during the rise of modern Indian Nations in the tribal sovereignty movement. He litigated indigenous rights pertaining to religious freedom, prisoner rights, water rights, treaty rights, and reburial\repatriation rights. Echo-Hawk is admitted to practice law before the US Supreme Court, Colorado Supreme Court, Oklahoma Supreme Court, Courts of Appeals for the 8th, 9th, 10th and District of Columbia Circuits, Federal Claims Court, and several US District Courts.
1986-1990: He represented tribal clients to obtain repatriation legislation: (a) precedent-setting legislation in Nebraska (1989) and Kansas (1988) directing museums to return and rebury dead bodies and grave objects to Tribes of origin; (b) the 1989 reburial agreement with the Smithsonian Institution enacted into the National Museum of the American Indian Act; (c) the 1986-1990 legislative campaign culminating in the passage of Native American Grave Protection and Repatriation Act (NAGPRA).
1990-1994: He represented the Native American Church of North America to obtain passage of the American Indian Religious Freedom Act Amendments of 1994.
In 2010, he represented the Klamath Tribes in a trial to quantify treaty-protected Indian water rights for hunting, fishing, and gathering purposes; and various Tlingit tribes to repatriate sacred objects and cultural patrimony.
2009-2017: He represented Oklahoma tribes; served on the Supreme Courts of the Pawnee and Kickapoo Nations; taught law at TU Law School and Lewis & Clark Law School; and will teach at the University of Hawaii's Law School, Spring, 2018.
Awards: Lawrence Baca Lifetime Achievement Award (2015), the highest honor accorded by the Federal Bar Association's Indian Law Section; President's Award, International Association of Official Human Rights Agencies (2014) (for human rights commitment); Governor's Commendation (2010) from Oklahoma Governor Brad Henry (for professional contributions on behalf of indigenous cultures throughout the nation); The FBA's Judge Sarah Hughes Civil Liberties Award (2009) (for civil liberties work); Distinguished Native American Alumni (2009), Okla. State Univ.; Martin Luther King Peace Award (1998), Metropolitan College of Denver; ABA's Spirit of Excellence Award (1995) (for professional contributions in the face of adversity); Civil Liberties Award (1991), ACLU of Oregon.