2016 Pilster Great Plains Lecture, October 13, 2016
"Mari Sandoz, Custer, and the Indian Wars"
Dr. Paul Hutton, University of New Mexico
Although best remembered as a literary giant, Mari Sandoz was also an influential historian who had a dramatic impact on America's view of George Armstrong Custer and the Indian Wars.  With Crazy Horse in 1942, Cheyenne Autumn in 1953, These Were the Sioux in 1961, and finally with her last book The Battle of the Little Bighorn in 1966, she helped to redefine the place of Native Americans in American society.   
---
About the 2016 Pilster Lecturer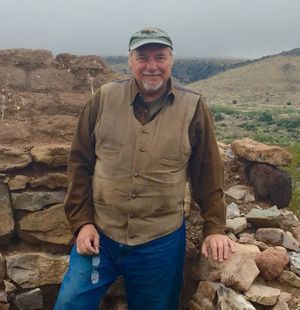 Paul Andrew Hutton is Distinguished Professor of History at the University of New Mexico. He has published widely in both scholarly and popular magazines, and is a five-time winner of the Western Writers of America Spur Award and six-time winner of the Western Heritage Award from the National Cowboy and Western Heritage Museum for his print and film writing. His Phil Sheridan and His Army (1985) received the Billington Prize from the Organization of American Historians, the Evans Biography Award, and the Spur Award from the Western Writers of America. He is also the editor of Western Heritage (2011), Roundup (2010), Frontier and Region (1997), The Custer Reader (1992), Soldiers West (1987), and the ten-volume Eyewitness to the Civil War series from Bantam Books (1991-1993).  From 1977 to 1984 he was associate editor of the Western Historical Quarterly, from 1985 to 1991 was editor of the New Mexico Historical Review, and from 1990-2006 served as Executive Director of the Western History Association.  Hutton was also President of Western Writers of America from 2002-2004. He has written several short films for state and national parks as well as a dozen television documentaries and has appeared in over 300 television programs on CBS, NBC, PBS, BBC, Fox, Discovery, the History Channel and other networks. In 2003 he was historical consultant for the Ron Howard film The Missing, in 2010 repeated that role in Jon Favreau's Cowboys and Aliens, and again in 2016 on Gavin O'Connor's Jane Got a Gun.    He has also been active as a public historian with museums, guest curating major exhibits in 1985 on the Alamo at the DeGolyer Library in Dallas, in 1996 on the Custer legend at the Autry Museum of Western Heritage in Los Angeles, in 2002 on Davy Crockett at the Bob Bullock Texas State History Museum in Austin, and in 2007 on Billy the Kid at the Albuquerque Museum of Art and History.  His new book, The Apache Wars, was published by Crown in May 2016.