2015 Pilster Great Plains Lecture, September 17, 2015
"These Were the Sandhills Women: Stories, Images, and Mari Sandoz"
Dr. Renee Laegreid, University of Wyoming
"These Were the Sandhills Women: Stories, Images, and Mari Sandoz," is the title of the 2015 Pilster Lecture to be delivered by Renee M. Laegreid, associate professor of history of the American West at the University of Wyoming.  Laegreid explains that women have seldom been the feature of pioneer stories. Cast as "gentle tamers," "helpmate," or "the reluctant wife," depictions of westward moving women in the mid-to late nineteenth century generally fell into one of these three categories. The idea that women suffered deeply from pioneer conditions of isolation and an unfamiliar environment also became a part of the frontier story. The relentless winds, historian Walter Prescott Webb stated, caused many a woman to go insane. Not everyone, though, agreed with this narrative. Decades before scholars began to seriously challenge the masculine frontier myth, Mari Sandoz wrote of the diverse lives of women who called the Sandhills home. Professor Laegreid's presentation places Sandoz's writings within the context of Northern Great Plains settlement.  Themes from Old Jules, Miss Morissa and Slogum House —push-pull factor for migration, women homesteaders, and gender roles—are set alongside images and writings of pioneer women from the region, showcasing the complex, wide-ranging and sometimes shockingly unexpected experiences of nineteenth-century Plains women.
---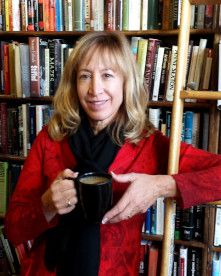 Dr. Renée Martini Laegreid specializes in the history of the American West, with a focus on gender and culture in the late nineteenth to mid- twentieth century. Her current research projects involve cultural and social analysis of western iconography, examining how symbols of the West have been created and shaped over time, and across international boundaries. She has authored two books, Women on the North American Plains (2011), co-edited with Sandra Mathews and Riding Pretty: Rodeo Royalty in the West (2007).