Such a Jolly Family: Mari Sandoz Re-writes Elizabeth Bacon Custer
This essay offers a close reading of Mari Sandoz's The Battle of Little Bighorn, comparing its portrayal of Armstrong Custer to that offered by his widow Elizabeth Bacon Custer in her hugely popular memoir Boots and Saddles. Taking up exactly where Boots and Saddles ends—at the cusp of Custer's final battle--Sandoz's text reads as an extension and repudiation of EBC's, unseating its primacy eighty years on.  
These two writers' successes in producing convincing portraits of Custer are widely acknowledged: ambitious, self-involved, and disastrous (Sandoz) or heroic, gallant, and unerring (EBC).  However, exactly what textual strategies and rhetorical acts create these divergent portraits have yet to be analyzed, as both books have largely been evaluated as historical documents rather than literary artifacts.
Out of deference to a bereaved widow, during her lifetime Custer's depiction of her husband as a national hero was not publicly refuted by biographers and military historians, and scholars today perpetuate that chivalry by focusing near exclusively on her personal loss rather than her justification of an imperial, genocidal project endorsed by the countless readers who avidly consumed her reminiscences. Literary critics, meanwhile, have ceded The Battle of Little Bighorn to historians, perhaps overwhelmed by an accumulated wealth of research and insight that seems to speak for itself.
In Boots and Saddles, EBC masks the political nature of Custer's work to depict his relationship to his troops as alternatively paternal and fraternal, and their joint military endeavor as forms of domestic activity. The 7th Cavalry is rendered an extended family and the Great Plains, its expansive home. Sandoz's subsequent depiction of Custer and his men and the events leading into their last battle destroy this illusion. By entering into the consciousness of a range of people (fellow officers, enlisted men, and Native scouts of various tribal affiliations), Sandoz eradicates EBC's portrait of a family motivated by shared interests. Rather than a self-sacrificing father figure, Sandoz's Custer is driven by hubris and ambition, leading to disastrous decisions and the sacrifice of his troops. In the text he appears, moreover, oddly elusive and remote, with his authority and centrality undermined by Sandoz's choice not to allow the same access to his interiority that we have to that of a host of minor characters, views of his thoughts and emotions from within. Seen only through the eyes of others, he is marginalized in a text that is all about his actions and their outcomes. Sandoz's final book stands as a refutation of the legacies of both Custers, Armstrong and Elizabeth alike.
In addition to making the arguments outlined above, I believe the essay models a way for literary scholars to approach Sandoz's many historical works and to connect them to her novels. Upon completion it is slated to be published in Mari Sandoz and The Battle of the Little Bighorn (ed. Renee Laegreid), forthcoming from the University of Nebraska Press.
---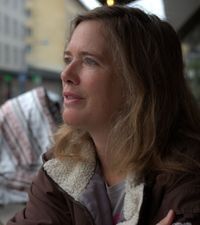 Cathryn Halverson, Senior Lecturer of English, Sodertorn University, Huddinge, Sweden
Formerly an Associate Professor of English at Minot State University, North Dakota, Halverson was recently appointed a Senior Lecturer of English at Sodertorn University in Huddinge, Sweden.  She is the author of three monographs about western women's life narrative. The most recent, Faraway Women and The Atlantic Monthly, was the 2019 winner of the Thomas J. Lyon award for best single-author monograph in Western Literary and Cultural Studies. She was last year's Fulbright Distinguished Chair in American Studies at the University of Uppsala, Sweden, and the recipient of research fellowships from, among others, the Huntington Library, the Massachusetts Historical Society, and the American Heritage Center.